Top wedding venues Italy
Top wedding venues Italy – List of the best Italian wedding venues
Hello, everybody, welcome to "Top Wedding Venues Italy"!!! As you already should know we are in the wedding business for many years, we've played in hundreds of wedding receptions and therefore also in hundreds of wedding venues all around Italy!!
But this is nothing compared to the fact that recently we (Footnote: we = Guty and Simone) both, one after another, got married. Even if we won't reveal where we got married, now we are more aware that in order to list the best venues it's essential to empathize with a groom-to-be (and even more with a bride-to-be!!!) because the most important thing is that the spouses are happy about it.
So this is not the list of the nicest venue owners, of the oldest friends of ours or of the venues we prefer from our perspective, but this is the list of the venue that (as we know from personal experience) offer better services, keep all clients happy, and that don't produce any unpleasant surprises at the last moment.
Here's some must-have features to be one of the best Italian wedding venues:
– Plan B (indoor and outdoor options): in case of bad weather the venue will offer indoor an equivalent level of outside treatment, services, room, timings, elegant touches and details
– Helpful wedding day conveniences: regardless of weather the venue is a luxury hotel, a private villa, an ancient castle, an historic home, a farmhouse etc. a good wedding venue has all the modern comforts
– A beautiful landscape and possibly a great view: if you're getting married in Italy it's not hard to find an exceptional location with a stunning view that you and guests will never forget
– No Cinderella timings restrictions: the possibility to keep partying after midnight
– Eating, drinking and partying areas: there should be logical places within the venue where guests can eat, drink and dance
– Food and beverage quality: of course the food you serve at your wedding is important, if you're in Italy then all the more reason food and wine has to be the best of the best.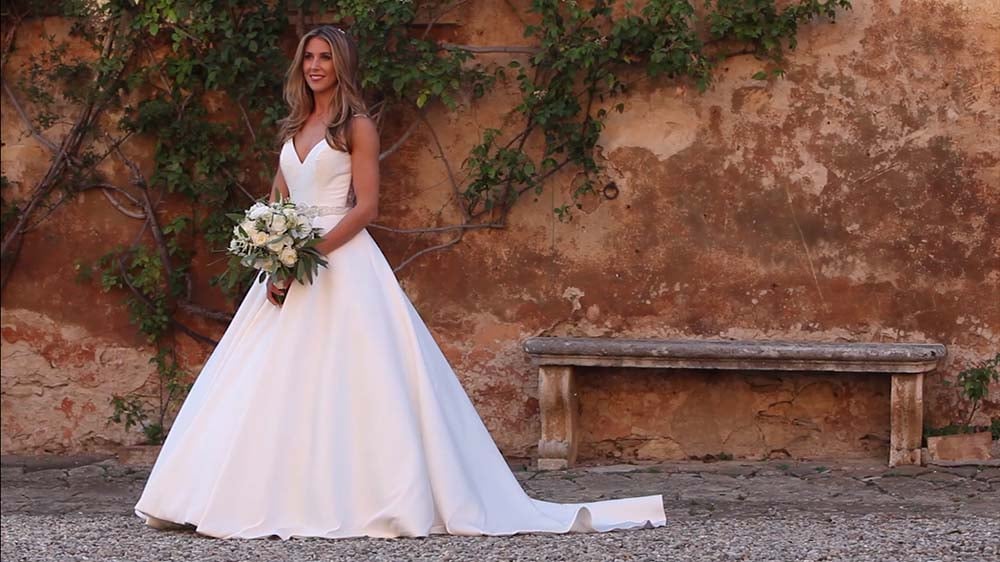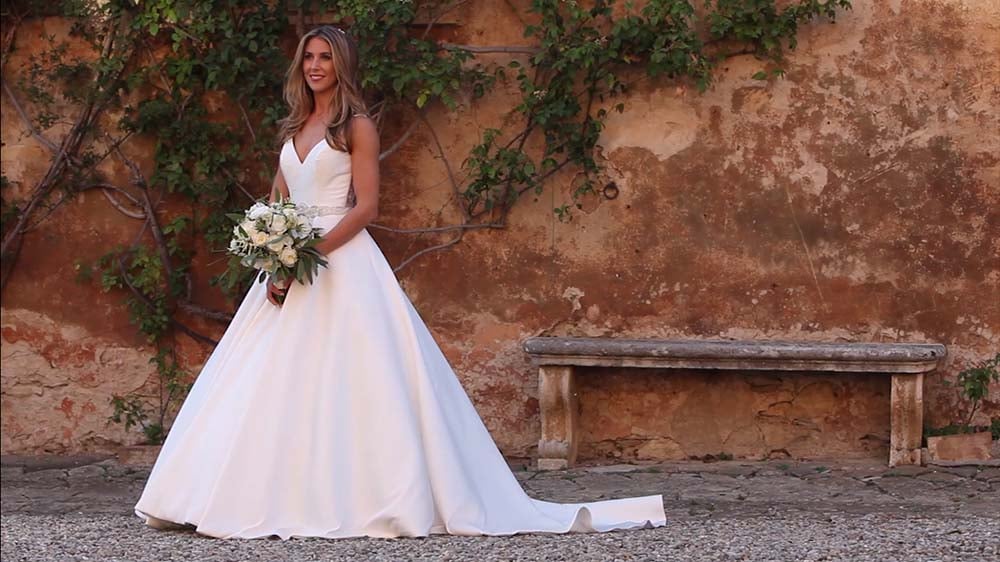 So, enjoy our list (that we update continuously) of the best Italian wedding venues!
Top wedding venues Italy
Tuscany
– Villa Catignano – Castelnuovo Berardenga (SI)
– Casa Cornacchi – Montebenichi (AR)
– Villa Medicea La Ferdinanda Artimino – Carmignano (PO)
– Terre di Nano – Pienza (SI)
– Villa Cora
– Borgo Casabianca – Asciano (SI)
Umbria
– Tenuta di Casa Bruciata – Preggio (PG)
– Abbazia Sette Frati – Piegaro (PG)
Rome
– Borgo di Tragliata – Fiumicino (RM)
Top wedding venues Italy – Other very good Italian wedding venues
Tuscany
Agriturismo I Cedri Barga (Lu)
Borgo Corsignano – Poppi (Ar)
Borgo Di Castelvecchio – Contignano (Si)
Borgo Di Colleoli Resort – Colleoli (Pi)
Castello Di Gabbiano – Mercatale Val Di Pesa (Fi)
Castello Di Gargonza – Monte San Savino (Ar)
Castello Di Meleto – Gaiole In Chianti (Si)
Castello Di Velona – Montalcino (Si)
Castello Di Vincigliata – Fiesole (Fi)
Castello Il Palagio – Mercatale Val Di Pesa (Fi)
Castello La Leccia – Castellina In Chianti (Si)
Castello Vicchiomaggio – Greve In Chianti (Fi)
Fattoria Le Filigare – Barberino Val D'elsa (Fi)
Agriturismo Podere Casato – Castelnuovo Berardenga (Si)
Agriturismo San Galgano – Chiusdino (Si)
Agriturismo Villa Le Bolli – Radicondoli (Si)
Borgo Petrognano – Barberino Val D'elsa (Fi)
Borgo Pignano – Volterra (Pi)
Borgo Rapale – Rapale (Ar)
Borgo San Luigi – Monteriggioni (Si)
Borgo Stomennano – Monteriggioni (Si)
Borgo Vignale – Gaiole In Chianti (Si)
Capannelle Wine Resort – Gaiole In Chianti (Si)
Casale De' Pasquinelli – Segromigno In Monte (Lu)
Castello Banfi – Montalcino (Si)
Castello Del Trebbio – Pontassieve (Fi)
Castello Di Modanella – Serre Di Rapolano (Si)
Castello Di Montegufoni – Montagnana V.P. (Fi)
Castello Di Santa Maria Novella – Fiano (Fi)
Chiostro Del Carmine – Siena
Fattoria Bacio – Certaldo (Fi)
Fattoria Mansi Bernardini – Segromigno In Monte (Lu)
Fattoria Quercia Al Poggio – Barberino Val D'elsa (Fi)
Fattoria San Donato – San Gimignano (Si)
Fattorie Di Celli – Poppi (Ar)
Hotel Badia Di Campoleone – Capolona (Ar)
Hotel Bel Soggiorno – San Gimignano (Si)
Hotel Borgo San Felice – Castelnuovo Berardenga (Si)
Hotel Villa La Vedetta – Firenze
Hotel Villa Rinascimento – Santa Maria Del Giudice – Lucca
Il Borro – S.Giustino Valdarno (Ar)
Il Casale Del Marchese – Bettolle (Si)
La Canonica Di Cortine – Barberino Val Delsa (Si)
La Costa Dei Barbari – Viareggio (Lu)
La Pescaia Resort – Sticciano Scalo (Gr)
La Selva Giardino Del Belvedere – Cavriglia (Ar)
La Torre Alle Tolfe – Siena
Locanda In Tuscany – Castiglione D'orcia (Si)
Podere Patrignone – Barberino Val D'elsa (Fi)
Podere Val D'orcia – Sarteano (Si)
Pratello Country Resort – Peccioli (Pi)
Pieve dei Pitti – Terricciola (Pi)
Tenuta Di Corsignano – Vagliagli (Si)
Tenuta Di Papena – Chiusdino (Si)
Tenuta La Borriana – Carmignano – Prato
Tenuta Lupinari – Bucine (Ar)
Tenuta Quadrifoglio – Gambassi Terme (Fi)
Terre Di Baccio Greve In Chianti (Fi)
The Lazy Olive – Asciano (Si)
Vignamaggio – Greve In Chianti (Fi)
Villa Bordoni – Greve In Chianti (Si)
Villa Bucciano – San Miniato (Pi)
Villa Buoninsegna – Rapolano Terme (Si)
Villa Catureglio – Borgo A Mozzano (Lu)
Villa Cora – Firenze
Villa di Corliano, Relais dell'Ussero – San Giuliano Terme (pi)
Villa del Parco – San Baronto (Pt)
Villa Di Maiano – Fiesole (Fi)
Villa Di Ulignano – Volterra (Pi)
Villa Dievole – Vagliagli (Si)
Villa Ducci – San Gimignano (Si)
Villa Fiesole – Fiesole (Fi)
Villa Il Castagno – Gambassi Terme (Fi)
Villa Il Granduca – Carmignano (Po)
Villa Il Poggiale – San Casciano Val Di Pesa (Fi)
Villa La Palagina – Figline Valdarno (Fi)
Villa Le Fontanelle – Firenze
Villa Mangiacane – San Casciano In Val Di Pesa (Fi)
Villa Margherita – Quercianella (Li)
Villa Vistarenni – Gaiole In Chianti (Si)
Villa Petrolo – Bucine (Ar)
Villa Petrischio – Cortona (Ar)
Villa Pitiana – Donnini – Firenze
Villa Podernovo – Monticiano (Si)
Villa Poggio Ai Merli – Scandicci (Fi)
Renaissance Tuscany Il Ciocco Resort & Spa – Castelvecchio Pascoli (Lu)
Umbria
Agriturismo Titignano – Titignano (Tr)
Borgo Bastia Creti – Umbertide (Pg)
Castello Di Montignano – Massa Martana (Pg)
Castello Di Rosciano – Torgiano (Pg)
Hotel Abbazia Dei Collemedio – Collazzone (Pg)
Hotel Bramante – Todi (Tr)
Hotel Brufani – Perugia
Hotel La Badia – Orvieto (Tr)
La Domus – Orvieto (Tr)
Le Silve Di Armenzano – Assisi (Pg)
Nikis Resort – Gubbio (Pg)
Palazzo Bontadosi – Montefalco (Pg)
Relais Todini – Collevalenza Di Todi (Pg)
Ripa Relais Colle Del Sole – Ripa (Pg)
Ristorante Locanda Del Teatro – Montefalco (Pg)
Valle Di Assisi Relais – Assisi (Pg)
Villa Petronilla – Perugia
Rome
Castello Della Castelluccia – Rome
Grand Hotel Parco Dei Principi – Rome
Hotel Capo D'africa – Rome
Hotel Majestic – Rome
Hotel Napoleon – Rome
Hotel Quirinale – Rome
Marriott Grand Hotel Flora – Rome
Palazzo Brancaccio – Rome
Villa Grazioli – Grottaferrata (Rm)
Villa Tuscolana Park Hotel – Frascati (Rm)
The top wedding venues Italy suggested links:
– Get an amazing video of your wedding with the "Italian wedding videographers" team!
– Visit Italian Wedding Musicians – www.italianweddingmusicians.com – Wedding music, audio and lights for your wedding in Italy
– Italian wedding suppliers – best wedding vendors in Italy list
Home page – Video – Repertoire – Tuscany – Florence – Siena – venues – Contacts