A Luxury wedding in Artimino Villa la Ferdinanda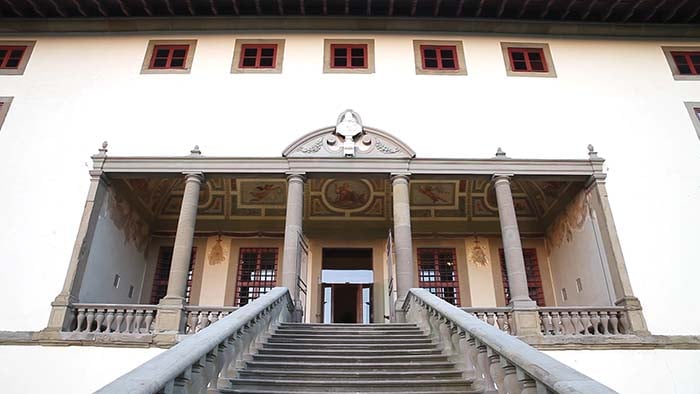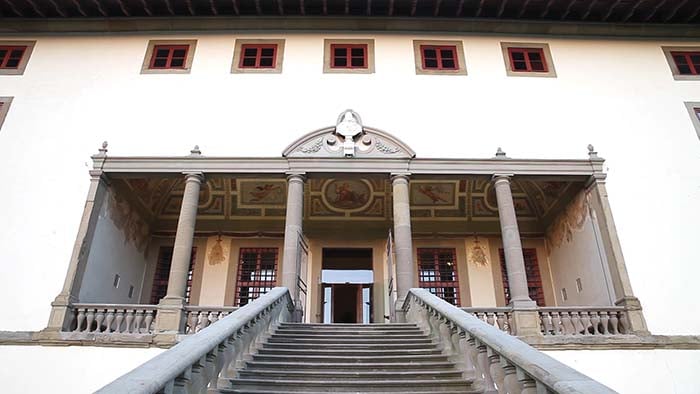 A luxury Wedding in Artimino Villa la Ferdinanda
Cora and John are a nice Irish couple from Dublin, together with their crowd they are very lucky to spend a day in this lovely place set on a hilltop in Artimino and surrounded by vineyards, a location that has always amazed its guests for its rare beauty.
A Wedding in Artimino:
The wedding ceremony takes place outside in the panoramic Belvedere garden, with its famous staircase, aperitifs among the old, wooden barrels of Granducale Cellars, dinner and after dinner in the spacious and elegant halls of the main floor: Sala dell'Orso and Sala del Leone (each one of these can accomodate up to 150 people). Guty & Simone provides background music + wireless microphone during dinner and live+dj set during the after dinner wedding party. For the first dance Cora is dancing with her dad "My Girl" by The Temptations, then the song she's dancing with John is " Rule the World" by Take That;
Artimino Villa la Ferdinanda is a huge magnificent four storied villa , with grand staircases inside and out , and paintings and frescos; aka also as the "Villa of the hundred chimneys", is surrounded by a breathtaking landscape in the heart of the real Tuscany and it's the ideal location to host events in a setting of charm.
Artimino Villa la Ferdinanda with his stunning position with a great view of the Florence valley, this rural retreat it's ideal for a base to tour and discover the surroundings and Florence.
The banqueting service is usually based on a Tuscan and creative cooking prepared with genuine Km0 products and accompanied by wines from the estate of Artimino Villa la Ferdinanda.
It's possible to choose to celebrate the civil marriage or symbolic both indoors and outdoors, while not far from the villa there is the lovely Romanesque church of San Leonardo, built in the eleventh century.
The videos show the bride, groom and guests dancing to the live music and dj set of Guty & Simone "the Italian wedding musicians and Dj". See here where they have played!
A luxury Wedding in Artimino Villa la Ferdinanda video 1
Wedding party Villa la Ferdinanda video 2
Artimino Irish wedding reception video 3
A luxury Wedding in Artimino Villa la Ferdinanda video 4
The video trailer of the day by the professional videographer from Tuscany Tiziana Billi, owner and head videomaker at Italian wedding videographers
In the photo: the bride with her bridesmaids in Artimino Villa la Ferdinanda
In the photo: the party inside Artimino Villa la Ferdinanda
Other venues and posts to see:
– A beautiful wedding at Villa Le Fontanelle Florence
– Villa Vistarenni wedding in Chianti Tuscany
– Villa Pitiana wedding, Florence, Tuscany
– Villa di Maiano wedding, Fiesole, Florence, Tuscany
– Villa Cora luxury wedding in Florence
– Irish wedding reviews, recommendation from an Irish couple
– Villa Petrolo wedding party in Tuscany 2 video
– Wedding at Castello Vicchiomaggio, Tuscany, 5 videos
– Wedding in Rome, Hotel Quirinale wedding party
– Villa Tuscolana wedding in Rome
– Podere Patrignone wedding in Castellina in Chianti Tuscany
– Wedding at Renaissance Tuscany Il Ciocco Resort
– Borgo di Castelvecchio wedding party, 4 video
– Villa di Corliano wedding, Relais dell'Ussero
– Wedding in Umbria at La Badia di Orvieto
– A Luxury wedding at Castello di Velona, Montalcino, Tuscany
– Wedding at Borgo di Colleoli, Pisa, Tuscany
– Wedding at Casa Cornacchi, Montebenichi, Bucine, Tuscany – post 2 – post 3
– A wedding at Villa Catignano, Siena Tuscany – post 2 – post 3 – post 4
– Wedding at Tenuta di Casa Bruciata, Umbria
Home page – Video – Repertoire – Tuscany – Florence – Siena – Venues – Contacts
and also visit:
– Get an amazing video of your wedding with the "Italian wedding videographers" team!
– Visit Italian Wedding Musicians – www.italianweddingmusicians.com – Wedding music, audio and lghts for your wedding in Italy
– Wedding suppliers in Italy
– Get your SIAE permit online!