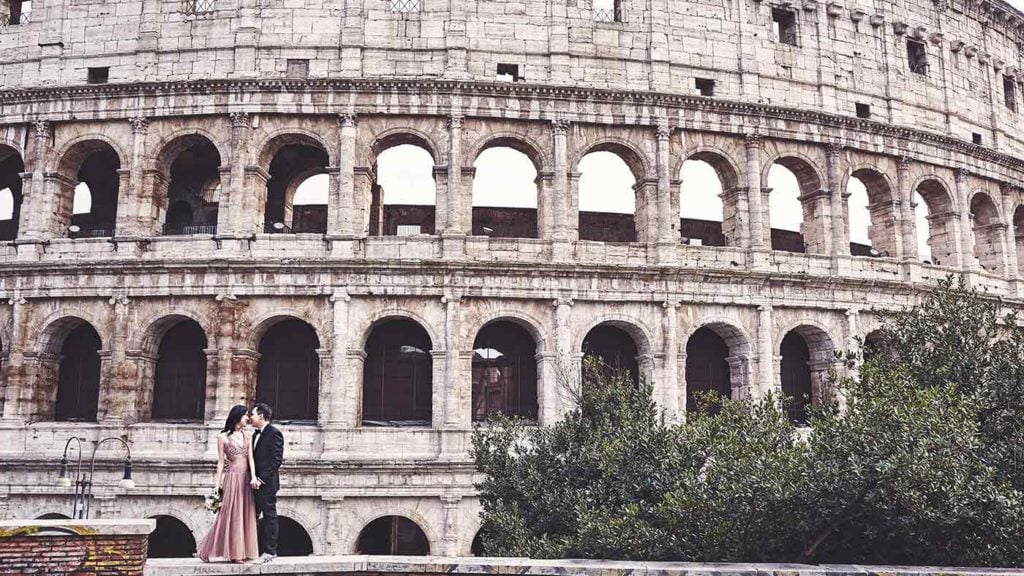 Wedding Band Rome Italy – Hire your wedding music band in Rome!
– Why get married in Rome?
– Why "Guty & Simone" wedding band?
– What's included on our standard package?
– Extra packages
– VIDEO: See us playing in some of the best wedding venues in Rome
Wedding Band Rome Italy – Why get married in Rome?
Rome is the perfect place for a magical wedding, during the last years we've played in many wedding venues in and around Rome and to this day we frequently play here!!!
This is Rome, the "Eternal City", the cradle of occidental civilization and Christian culture, the Italian capital, the Capital, Caput Mundi, the navel of the world, all roads lead to it!!!
It is virtually impossible to make a to-do list…So many things to see!!! The Colosseum, where the gladiator games took place; via dei Fori Imperiali, a unique set of temples, basilicas, public and sacred buildings and the Roman Forum standing out of the surrounding lush vegetation; the famous Mouth of Truth, a marble carving representing the face of a faun near the Church of Santa Maria in Cosmedin; this mouth, according to legend, swallows the hands of liars (so it's vey funny to take a picture there to capture the moment when the spouses make an oath of eternal and undying love).
Omnia vincit amor, et nos cedamus amori (Love conquers all things, let us yield to love)

Virgil – Famous ancient Roman poet
The tour of the city continues
The tour of the city continues following the banks of the Tiber to Castel Sant'Angelo, a mausoleum for the Emperor Hadrian, a shelter for popes and a prison; the famous Piazza San Pietro, with the 16th-Century colonnade by Bernini and the magnificent Sistine Chapel, with its precious Last Judgement, another 16th-Century masterpiece, this time by Michelangelo…. Piazza di Spagna with the famous Spanish steps of Trinità dei Monti, Piazza Farnese and Piazza Navona with Bernini's Fountain of the Four Rivers, not to mention the 18th-Century Trevi Fountain, where tourists throw coins and express their wishes.
Via Veneto, the backdrop to Fellini's La Dolce Vita and the symbol – with its trendy cafés and restaurants – of a decade that made modern history; and last but not least, the big four Roman shopping streets – Via Condotti, Via Frattina, Via Borgognona and Via Margutta – offer the best of Italian and international Made in Italy fashions.
The best music entertainment for your wedding in Rome – "Guty & Simone" Rome wedding band.
Our Wedding band Rome Italy is the perfect backdrop for the most important moments of your life: church wedding, civil wedding, wedding reception, wedding cocktail hour, wedding party and so on; we have more than twenty years experience as professional musicians, and for more than ten years we have specialised in wedding music for foreign couples getting married in Italy. We work an average of 40/60 events per year. We have a high understanding of spoken and written English.
You will be in safe hands and you'll have the perfect wedding that you and your guests dreamed of.
Our Rome Wedding Band work full-time on the musical elements for each event and are constantly in contact with the bride and groom as well as with the wedding planners in order to meet the clients' every wish and need and to not leave anything to chance.
All services included
Our Wedding band Rome Italy is not only a music band, it is a full sound design for events.
Our packages meet your requirements from ceremony to aperitifs, from dinner to after dinner party!!
Guty & Simone standard package
For one thing, our Rome Wedding Band Standard package it's far more cost-effective since cover ALL your needs from dinner onwards:
In the dinner area we'll set up a sound system + wireless microphone for background music and speeches;
In the after dinner area we'll set up our main sound system + instruments + disco lights + dj equipment for After Dinner Party Live music and DJ set;
Live music:
Guty & Simone the Rome Wedding Band have a vast repertoire which covers all musical genres from the 50's to present day including: Italian and International Pop, 70's-80's Disco, Latin, Rhythm and Blues, Ratpack/Swing, Rock, Reggae, Country and Folk etc.
Furthermore, over the years we have expanded our repertoire to include the songs that are often the most requested by newlyweds from Ireland, UK, USA, Australia, Germany and Holland etc
DJ set:
in addition to live performance, we also offer a DJ service where we can mix requested songs in true DJ style. All requests from newlyweds or guests are granted instantly, including more modern genres such as R&B, Hip Hop, EDM as well as the latest chart hits.
Our Wedding band Rome Italy can also accept DJ requests on-the-fly since we can access the web through our own Internet connection!!!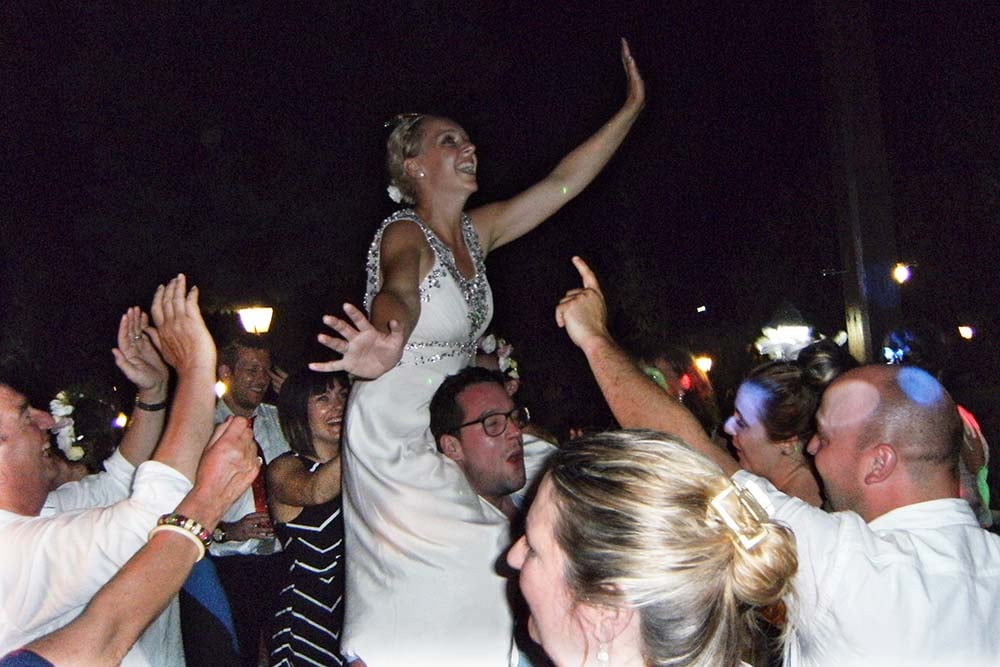 Extra Packages for your wedding in Rome
In addition to the standard package our Wedding band Rome Italy can also organize the entire music entertainment for your wedding in Tuscany.
Go ahead and choose what you want!!
– Ceremony music: Harp – Harp, Violin – Harp, Violin and Soprano voice – Keyboards, Soprano voice – Piano, Tenore and Soprano voice duo – String quartet – Classical guitar – Ceremony DJ and Audio microphone service etc..
– Aperitif /Coctail hour: String quartet – Harp – Harp, Violin – Classical guitar – DJ set lounge music – Accordion, Female Voice Folk duo etc…
Rome wedding band: Other Services
– Audio & Lights rental for weddings: String lights, Sound systems/Light systems and consoles for DJs,
Wall Uplighting etc..
– Wedding Video and Photo Service: a network of professional photographers and videographers with which we've worked over the last years.
– Wedding band Rome Italy can provide also SIAE music tax for wedding info and payment ONLINE.
We love being part of your wedding!! Our Wedding band Rome Italy will make your big day an unforgettable and unique moment!!! If you're looking for something special for your Wedding we can help you!!
Try our all-in-one package LIVE music and DJ set!
Guty & Simone: the most popular Italian band + Dj set for the wedding entertainment in Rome. We'll be able to make your wedding party as something of unique to remember always!
Rome wedding band Italy videos – See us playing in some of the best wedding venues around Rome:
Home page – Videos – Standard package – Extra packages – Repertoire – Your wedding in Tuscany – Florence – Siena – Umbria – Rome – Contact us here
The wedding music band Rome italy suggested links:
– Get an amazing video of your wedding with the "Italian wedding videographers" team!
– Visit Italian Wedding Musicians www.italianweddingmusicians.com – Wedding music, audio and lights for your wedding in Italy
– Get your SIAE permit online
– Top wedding venues
– Intro Rome Colosseum photo by Jules Bower (all rights reserved) visit Jules website here: jules-photographer.com