Wedding music Siena – Wedding at The Lazy Olive, Asciano, Siena.
Wedding music Siena – Small wedding party at The Lazy Olive, Asciano, Siena.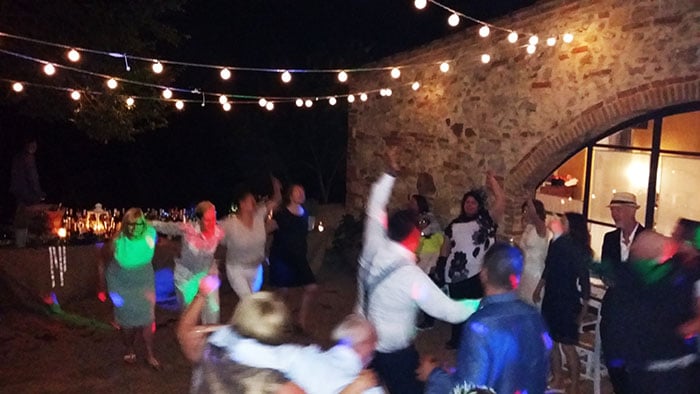 An English wedding party at The Lazy Olive, Podere Finerri – localita Finerri, 53041 Asciano (SI), Italy, the newlyweds Kelly and Jon both from UK.
Guty and Simone "the Italian wedding musicians" can play "live music + Dj set" everywhere, from the biggest wedding venues to the smallest and intimates places (just check the list "Where they have played"). In any case everybody will enjoy their performance and will dance the whole evening.
Somebody said that "The Lazy Olive is "The 8th wonder of the world" because of its breathtaking 360° view of the tuscan hills.
The Infinity pool is lovely and there's a great area for guests to spend the day playing games & relaxing.
You can eat some wonderful dishes using local produce all served in such a relaxed atmosphere.
The ceremony takes place in the big lawn near the pool, the aperitifs by the pool and the dinner in the back of the house.
Guty & Simone provide a sound system in the dinner area for a Spotify playlist made by the bride then set up their main sound system in the courtyard for the after dinner party, great LIVE music and DJ set to make all guest dance all the evening!!!
Past clients said: "The dance floor was full all night – which is the best sign for a band!"
"We just want to thank you both for the wonderful music. It was super fun and everyone had a good old knees up!! Your energy to amazing! We had the most incredible weekend"
"You have been so patient and accommodating for us and we cannot thank you enough for that! We will certainly be sharing out perfect experience of your service with our friends and family and will spread the word about you! Thanks again for all your help and hard work!"
Wedding music Siena – Wedding at The Lazy Olive, Asciano, Siena.
See also this posts
– Visit the page dedicated to Villa Valentini Bonaparte (between Umbria and Tuscany)
– A wedding at Nikis Resort in Umbria
– Visit our page dedicated to Casa Bruciata
– Visit the page dedicated to Villa Catignano Siena, Tuscany
– Visit the page dedicated to Casa Cornacchi Country House Tuscany – video 2
– An amazing party at Villa Le Fontanelle
– Luxury  wedding at Villa la Ferdinanda Artimino, Tuscany
– A video during an Irish wedding party in Rome
– Some rock and roll during a wedding in Siena
– Live during a wedding at Castello di Gargonza
– A wedding at Tenuta di Corsignano
– A wedding party at Castello di Gabbiano
– A wedding evening at Hotel Quirinale
– Castello di Velona wedding in Montalcino
– Fairytale wedding at Villa Mangiacane
Warmly suggested links:
Lazy Olive Wedding band suggested links
– Get an amazing video of your wedding with the "Italian wedding videographers" team!
– Visit Italian Wedding Musicians – www.italianweddingmusicians.com – Wedding music, audio and lights for your wedding in Italy
– Italian wedding suppliers – best wedding vendors in Italy list
– Get your SIAE permit online here!