Villa Catignano weddings, Siena, Tuscany
Villa Catignano
List of the best wedding venues in Italy where Guty & Simone have played:
A wedding at Villa Catignano www.villacatignano.it, Siena, Tuscany.
The video was recorded live during a gig at the beautiful wedding location "Villa Catignano", località Catignano – 53010 Pianella (Siena) Italy during a Scottish wedding. Guty and Simone The Italian Wedding Musicians play very often for the weddings parties who take place at Villa Catignano, Tuscany. They use to play for wedding entertainment all over Italy.
Some words of an happy bride about the Italian Wedding Musicians after their gig at the villa
Another couple talking delighted to have had Guty & Simone after their performance at Villa Catignano.
Usually in Catignano the dance party take place inside the hall. The dinner could take place outdoors in the courtyard or in the same hall of the after dinner party. Guty & Simone wedding musicians and wedding Dj set Tuscany.
Someone said about Guty & Simone:
"… On the day of the wedding, they turned up on time, set up their equipment without any fuss and played the music we wanted. The quality of their sound and vocals is great. Everyone at the wedding commented on how good they were and how great the playlist was.
Great job, highly recommended – 2 really sound good guys! …"
Matt. G – United Kingdom (from Tripadvisor)
A beautiful pic of a wedding first dance with the bride and groom and their guests inside a hall of the villa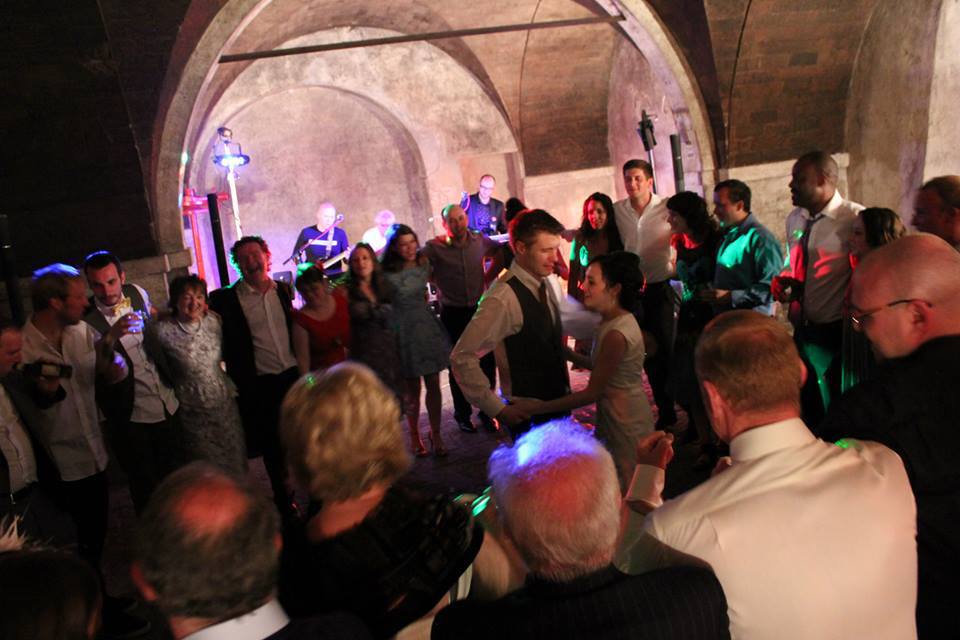 A review of a wedding at Villa Catignano on rockmywedding.co.uk Some words from Claire and Joe: "…On our wedding planner's recommendation we booked a duo called Guty and Simone, who played guitars and sang as well as played our playlist for the meal etc. They were brilliant and one of the highlights was everyone in a huge circle dancing to That's Amore at the end of the night… "