Alcuni video registrati durante un bellissimo party di matrimonio presso L'Ustaria Cà dal Rat, Orta San Giulio, Novara, Lago d'Orta. Orta San Giulio è in piccolo borgo molto carino e il ristorante si trova sulle rive del lago. Il Lago d'Orta e semplicemente meraviglioso e quest'area è una delle più belle del nord Italia.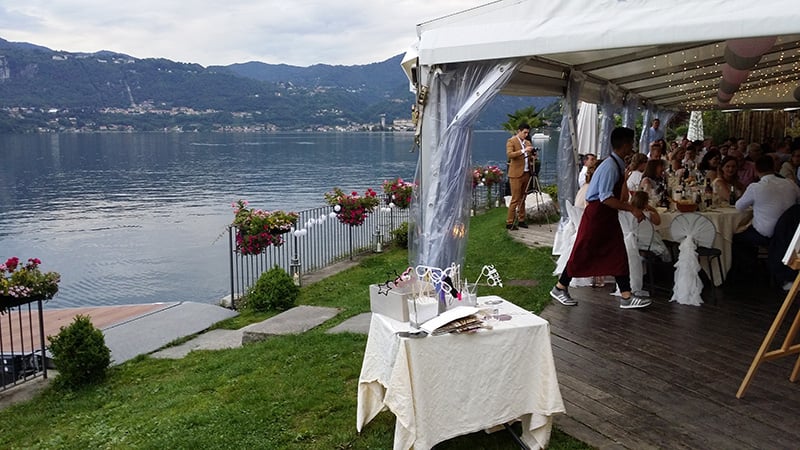 Un bellissimo ricevimento di matrimonio al Lago d'Orta
Gli sposi sono arrivati al ristorante direttamente in battello subito dopo la cerimonia. Guty & Simone suonavano le canzoni da loro scelte mentre scendevano dal natante. Il personale de L'Ustaria Cà dal Rat è molto amichevole ed esperto, cucinano molto bene e c'è un'atmosfera magica sulle rive del lago.
I clienti dicono: " Voglio soltanto dirvi un grandissimo grazie per aver suonato al nostro matrimonio venerdì. Siete stati fantastici, hanno tutti ballato dall'inizio alla fine ed ogni ospite diceva quanto eravate bravi. Grazie per aver aver reso il nostro matrimonio cosi speciale e cosi tanto divertente.
Client says: I just wanted to say a massive thank you for playing at our wedding on Friday! You were amazing everyone danced from start to finish and every guest said how good you were! Thank you for making our wedding so special and so much fun. From Melissa and Anthony xx"
Home page – Video – Pacchetto standard – Repertorio – Contatti
– Guty & Simone in English
– Vuoi uno straordinario video del tuo matrimonio? vista "Italian wedding videographers"!!
– Visita www.italianweddingmusicians.com – Musicisti e servizio noleggio audio e luci per il tuo matrimonio.